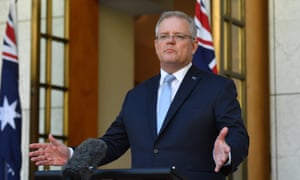 Prime Minister Scott Morrison has confirmed Qantas stood down workers will be available to claim the extra financial aid announced on the weekend.
The second rescue package, worth $66 billion, lets workers access essentially twice the current JobSeeker, previously Newstart, allowance. Eligible income support recipients will receive the coronavirus supplement on top of their normal payments. The extra payment will be available to both new and existing recipients of the jobseeker payment, youth allowance jobseeker, parenting payment, farm household allowance and special benefit.
Treasurer Josh Frydenberg said the $189 billion economic support package was the equivalent of 9.7 per cent of GDP.
The new $189 billion fund includes the $17.6 billion for the government's first economic stimulus package, $90 billion from the RBA and $15 billion from the government to deliver easier access to finance, and $66.1 billion in today's economic support package.
Selected and summarized Minh Pham from the source  https://australianaviation.com.au/2020/03/stood-down-qantas-workers-can-claim-new-benefits-81436/