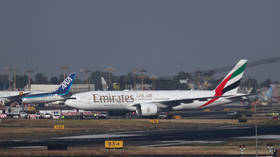 The UAE-based international airline, Emirates, which earlier said it would hold all passenger flights, promptly reversed its decision, adding that 13 destinations will be exempted.
One of the world's largest international airlines was on the verge of putting all its passenger flights on hold for an indefinite period starting March 25. The list includes the UK, Switzerland, Hong Kong, Thailand, South Korea, Malaysia, Philippines, Japan, Singapore, Australia, South Africa, the US, and Canada.
The company said that "requests from governments and customers to support the repatriation of travelers" particularly influenced its abrupt turnaround.
Selected and summarized Minh Pham from the source  https://www.rt.com/news/483794-emirates-passenger-flights-backtrack/