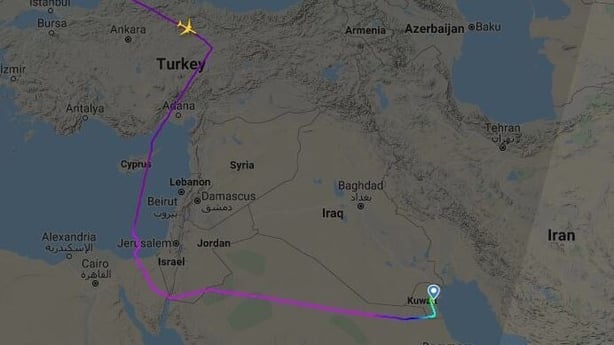 Airlines are making changes to their flight planning and schedules to avoid Iranian and Iraqi airspace amid growing military tensions between the U.S. and Iran-and after a Ukrainian International Airlines (UIA) aircraft crashed after take-off from Tehran, killing everyone on board.
UIA flight PS752, a Boeing 737-800 with more than 170 passengers and crew on board, crashed shortly after takeoff from Tehran's Imam Khomeini International Airport at around 6.10 a.m. local time Jan. 8.
Other airlines are also avoiding flying over the region and in some cases canceling flights as the tensions mount.
Qantas said it was adjusting the flight paths on its route between Perth and London "until further notice", to avoid Iran/Iraq airspace. Lufthansa Group is also making changes, canceling Lufthansa flights LH 600 and 601 from and to Tehran Jan. 8 "as a precautionary measure", it said in an emailed statement. "Lufthansa Group Airlines will continue to fly around Iranian and Iraqi airspace. Air France also said it had suspended all flights over Iranian and Iraqi airspace until further notice.
Emirates Airline said it had canceled its Jan. 8 flights EK943 from Dubai to Baghdad and EK944 from Baghdad to Dubai, citing operational reasons. Our flights to Basra and Najaf this morning will operate.
Vietnam Airlines said it would reroute all flights between Vietnam and Europe from Jan. 8, making appropriate adjustments to its routes to avoid areas of potential instability although it has no regular flights to/from Europe that pass through Iranian or Iraqi airspace.
Collected and summarized from the source below by Minh Pham  https://aviationweek.com/air-transport/airlines-adjust-routing-cancel-flights-avoid-iran-iraq-airspace